TOP WESTERN UNION BETTING SITES CANADA
Western Union (WU) is a reliable method of payment accepted by many sport betting sites. It is known for providing services not only locally but also to international markets.  It offers Canadian bettors fast payment processing at top online betting sites. In this article, we will cover everything you need to know about the payment method; including the pros and cons of the deposit method.
Our experts will also take you through the simple steps on how to make Western Union payments at sportsbooks. Below you will also find the best Canada sport betting sites accepting Western Union in Canada.
BEST CANADIAN SPORTSBOOKS ACCEPTING WESTERN UNION
HOW TO USE WESTERN UNION AT CANADIAN BETTING SITES
Western Union is a financial services company that has been in operation since 1851. To date, it still stands as the most reliable and popular payment methods at sports betting sites. The company originates in America but operates in more than 200 countries and online. You can use Western Union to fund your sports betting account and also make withdrawals. What's exciting about Western Union is that some bookies offer reimbursements for using the methods. In order to claim your Western Union betting bonuses, you will only need to provide the 10-digit transaction number from the payment made using Western Union. But how do you then make a deposit? In the next section you will find quick and easy steps on how to deposit at your favourite bookie using Western Union.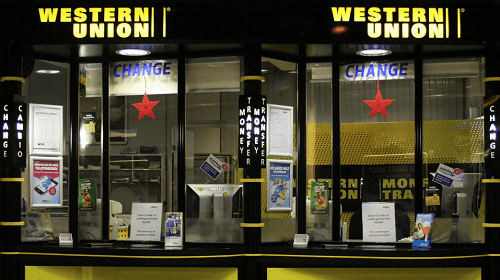 WESTERN UNION DEPOSITS
First, you will need to have a Western Union profile.
Pick your favourite sportsbook on our list and select WU as your preferred method of payment when you get to the cashier section.
The bookie will then provide you with a mailing address and cashier responsible for collecting your money (remember to store the information somewhere as you will need it to complete the process).
Visit your nearest Western Union branch and have a cashier wire the money for you. Alternatively, use the Western Union online or mobile devices services.
Once completed, your money should reflect within a few hours of processing.
WITHDRAWALS USING WESTERN UNION
Withdrawing using Western Union is a little bit complicated if bettors don't hold a NetSpend card. That is why most online bookmakers don't usually send money directly to your Western Union account. Usually, the bookie will send your withdrawn amount onto your bank account give that it's provided or alternatively send it to an agent who will then complete the transaction at a cost.
ADVANTAGES OF WESTERN UNION BETTING SITES
Below are the advantages of using Western Union at online betting sites:
Safety & Security – Western Union has been around for decades. So, rest assured that you're using a trustworthy service. Our highly recommended betting sites are also trustworthy and reliable, so you have nothing to worry about.
Privacy – Your personal and financial information is not revealed to the bookie when using WU at online bookmakers.
ATM withdrawals – Bettors can withdraw money at any ATM worldwide using their NetSpend Prepaid MasterCard.
Bonuses – Betting sites usually provide bettors with deposit and reload bonuses.
WESTERN UNION DISADVANTAGES
These are the cons associated with using Western Union at betting sites.
Transaction fees – Western Union transactions have fees attached to them starting at C$4.99.
Not accepted by all bookies – not all betting sites accept Western Union. Well, with the exception of ones on our list.
Time consumption – Withdrawing using Western Union can be a little bit time-consuming.
More Payment Options: