Toronto Raptors vs. Sacramento Kings Preview, Picks & Odds – 11/06/19
It's on again Wednesday night as the Sacramento Kings head to the Scotia Bank Arena to face the defending NBA Champion, Toronto Raptors. The Kings come onto the court after dumping the New York Knicks 113-92 in their last game on Saturday night. De'Arron Fox led the offense with a record 24 points while shooting eight of 18 goals from the field. The point guard also led assists with a record total of six and contributed three turnovers for his team. Power forward, Richaun Holmes led the rebounds with 10 points of which four came in offense. The Kings come into the game with a total 2-5 record while having 1-2 on the road.
Meanwhile, the Toronto Raptors look to remain undefeated at home, after losing 115-105 to the Milwaukee Bucks on the road on Saturday. Star point guard, Kyle Lowry led the team scoring with 36 points. Eleven of the 18 points came from the field while a good nine out nine came from the free-throw line. The rebounds were led by the brilliant center, Marc Gasol, recording 12 on the night. The assists were led by Fred VanVleet recording seven on the night.
So, who will win it tonight?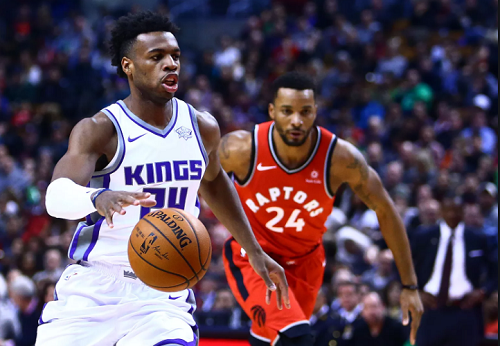 Toronto Raptors vs. Sacramento Kings Expert Prediction
The Raptors are currently sitting on 4-2 on the season after their loss on Saturday, and 3-0 at home. Pascal Siakam is leading in points and rebounds so far this season. He has recorded 26 points per game and averaging 8.5 rebounds. Meanwhile, VanVleet is big on the assists with a 7.2 average per meeting. Forward, OG Anuoby leads scoring with a record 55.6 shooting percentage. The Raptors are scoring 113 points per game while allowing 106.8 points. The Kings, on the other hand, are scoring 101.1 points allowing 110.1 per game.
Best Pick: Toronto is a rough team and hasn't lost a single game at home this season. They will not be looking to give that up tonight, especially not against the slumping Kings. Not to mention how the Raptors are still fuming after Saturday's loss. The Kings stand no chance. We believe the Toronto Raptors will cover the spread tonight!
Sacramento Kings v Toronto Raptors Betting Odds
Spreads
| | | | | |
| --- | --- | --- | --- | --- |
| Team | Intertops | Royal Panda | Spin Sports | William Hill |
| Raptors | (-8) – 110 | (-8) -112 | (-8) -108 | (-7.5) -110 |
| Kings | (+8) -110 | (+8) -118 | (+8) -108 |  (+7.5) -110 |
HIGHLIGHTS: Raptors v Sacrameto Kings 01/22/19
More Recent Articles: